I uploaded two new tracks to the track page called Farmyard run and criss cross jump crash( originally an mtm1 track) thanks to original maker of criss cross crash for designing it. criss cross jump crash is an edit of the original track with a big water hole with jumps around it. in the crash zone watch where your jumping cause another truck could hit you and knock you into the deep water in the hole. and in the hole their is a surprise see if you can find it
its a fun track and lots of good racing on it. ok now farmyard run is a fun circuit or you could say rally its about 6 or 7 minutes long for 1 lap. theres lots of jumps and almost every jump goes over 3 train tracks with trains going by on them so at one point you could jump over 3 trains like in the picture below.
heres the track shots from both tracks i don't have any good pics in game yet....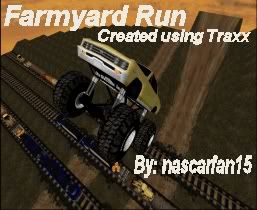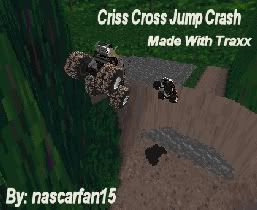 Track shots by phin:
Farmyard Run:
Criss Cross Jump Crash:
thanks phin!
and enjoy the tracks!
also leave comments and reviews on these tracks here...
and stay tuned for my next track entitled Hellsgate Raceway