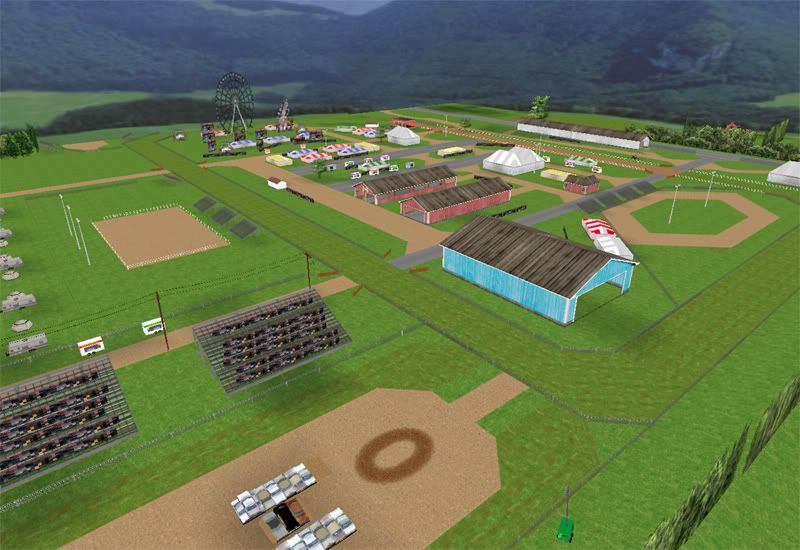 Many things can be said about this stunning track by dave, but no one word can fully describe the track and give it justice. The detail involved in this replica is just amazing! not many tracks reach this level of detail anymore, but dave stepped it up a notch this time around.
Lets begin with the outstanding attention to detail on this monster of a replica. This track, as you can see, was based off of older events ran in the past that included many different attractions like tractor pulling, animal pens, camping grounds, and carnivals! I grew up around a very very familiar environment over here in Monterrey where we hold one of the biggest rodeos in california and i truly felt like this track brought back memories for even me. i almost want to reach out and pay for a ticket to get on the rides! there are so many different attractions around the Brooklyn fairgrounds, i find my self cruising around with a smile instead of racing the track. Everywhere i go, there is something for the eye to behold, even if that means taking a cruise on the highway and stumbling across a barn house similar to one i used to live on. the detail is truly the foundation of this track, with such a simple yet enjoyable race setup you'll quickly find yourself off of the race course and in the stables.
Now that the immense detail is covered, lets move onto the main attraction, monster trucks! for such a small and simple racing course, it can prove to be very fun and exciting, while the extra detail really brings out the fun even more. As i stumbled through the five different versions of the track, i noticed that each version has different dirt textures as well. They aren't high detailed, but the simplicity of them really blends in well with the country feel the track has. The racing is truly a great experience and worth playing again and again.... and again!
Dave, you really made a trophy of a track and you deserve a ton of credit for all the hard work you spent on it. This is a must have for all players weather you're a circuit racer, a dragger, or especially an old school fan. This is a track you only see a select few times and it was worth every minute of work put into it!