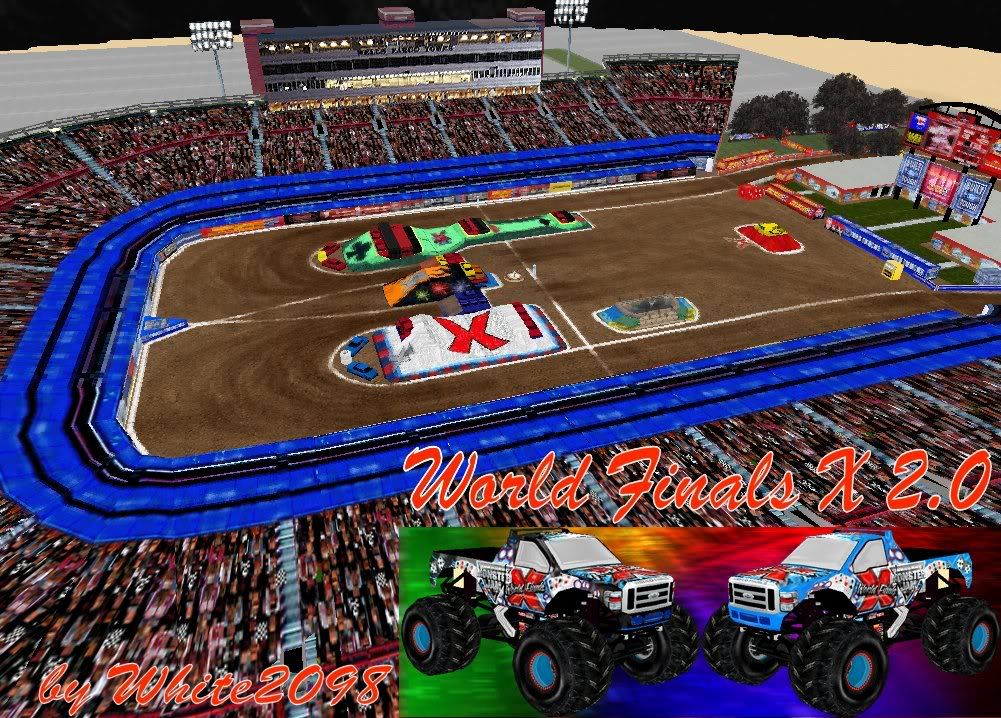 Freestyle
http://mtm2.com/~tracks/details.cgi?t=5210
Racing (trucks included)
http://mtm2.com/~tracks/details.cgi?t=5211
BackFlip
http://mtm2.com/~tracks/details.cgi?t=5212
Updates:
Ramps - This was a main focus on the update, at least 75% of the ramps have been tweaked
and several have been completely redone. There is a picture guide and an overhead picture of the ramps taken in Traxx. The pods were too big to include the pictures so I'll post them here.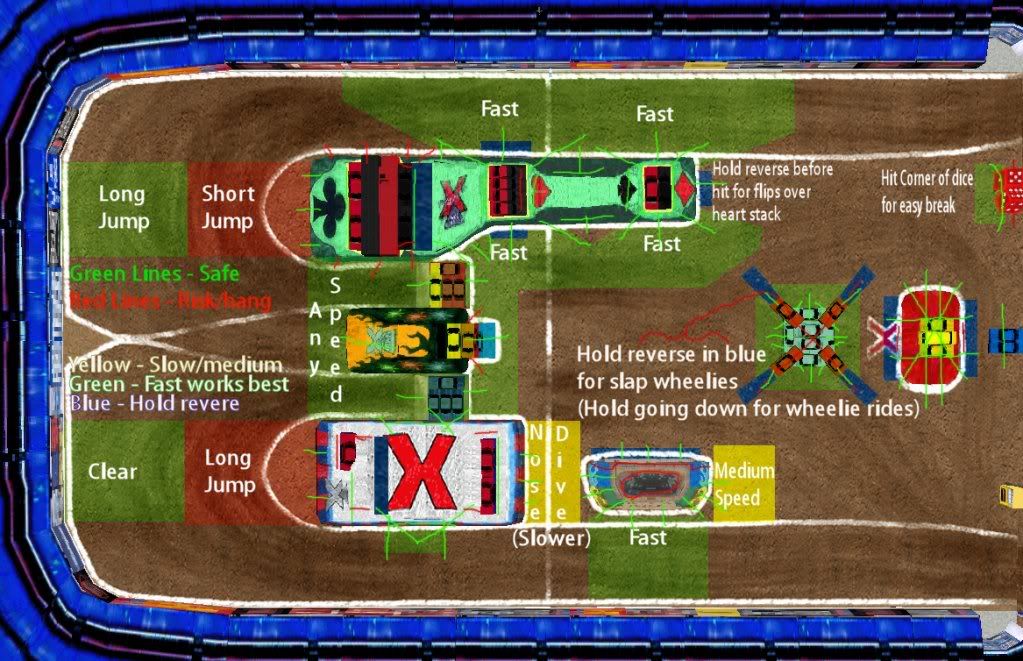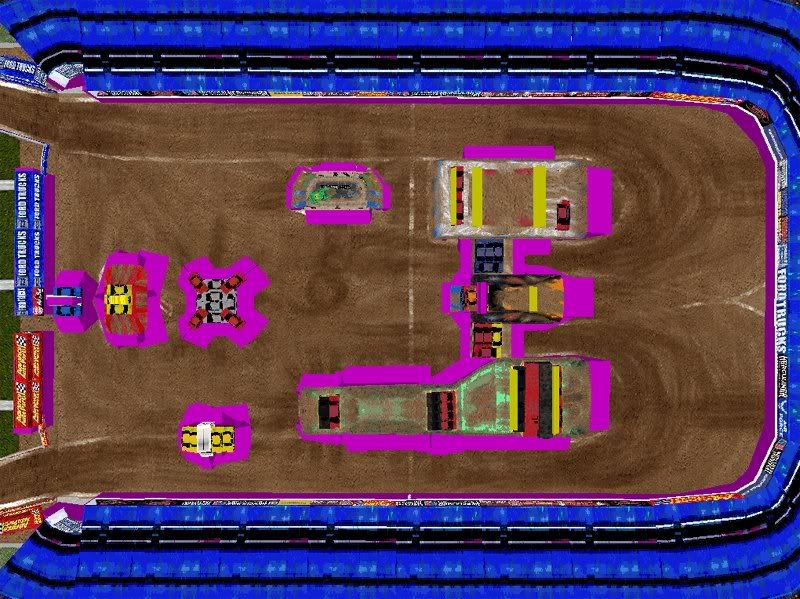 The ramp guide is intended to help take the guess work out of freestyle and let you use
more creativity without shying away from anything. Nothing is meant to be hit exactly as
the picture illustrates, but it is a general layout of how the ramps work and should help
keep your freestyles smooth and high paced.
The blue sections around the track aren't necessary, but they cause for some fun and
exciting moves when done correctly. It may be tricky to figure out but in time you will be
slapping wheelies and pulling off crazy saves left and right!
Part 2 doesn't have an illustration, but the bread truck by the triple is hittable from all angles.
Some of the moves done on the actual track are also possible here like Brutus riding a
wheelie down the double or Nitro Circus flipping over the triple. Keep that in mind because
some spots may throw you over if you're not paying attention.
BackFlip - The backflip hasn't changed, but I've learned that going 35 or so gives you the
best and most consistant results (holding reverse still applies).
Racing has also been redone a bit. The ramps on cars are still a danger zone that can flip
you at any wrong move, but the middle jump has been fixed so there is no more catch if you
get too close.
Textures - I redid all of the floor textures from scratch. The new dirt is toned down and colored
more accurately to the actual track. I also redid the obstacle textures for freestyle.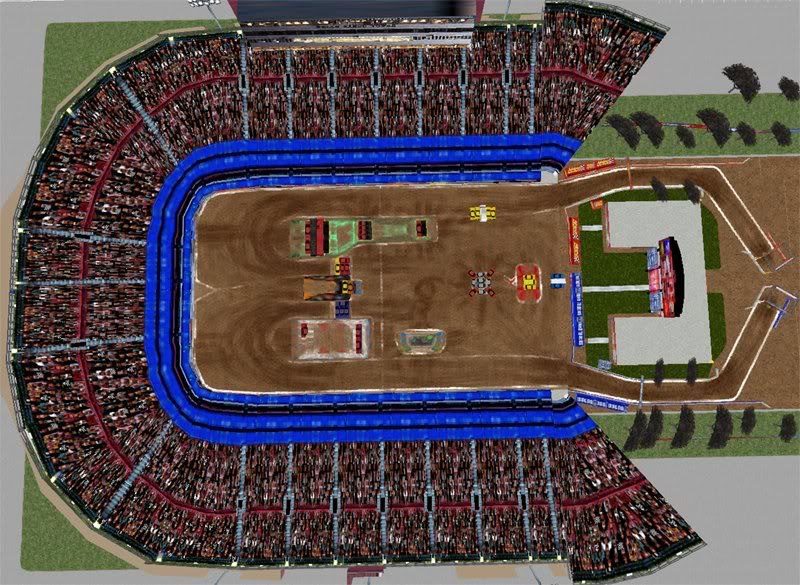 The stadium crowd has been redone along with some 3D entrances, touched up banners,
scoreboard, and touched up barriers/dumpsters.
Textures were as much of a focus as ramp work and hopefully this update will help bring
out the authenticity of Sam Boyd Stadium and the World Finals.
Oh one more thing, check the bottom of your truck list because there is a surprise waiting
for you!
Credits:
All models/textures are done by me except for the dice textures around the drivers area
and the scorboard model done by Slick.
The World Finals X trucks:
Paint - Jet(Black version me)
Tires - White2098
Body -Slick/edited by Scott "Razorbear" Bergman
Frame -Slick/edited by Scott "Razorbear" Bergman
Shocks -Cale/edited by Alex Pecorelli/ edited & retextured by Scott
Engine -Slick
Axles -slick
Fuel Cell -Slick
Thank you DavetheSmasher for doing some private testing for me!
That is the gist of the update on 2.0, good luck out there have fun and Enjoy!
- Caleb Querfurth