Okay, this place needs some new blood in the truck downloads. While I have created some (really realllly bad tracks) a long time ago, I had never dabbled into trucks before now. I thought it would be fun to re-create some of the Micro Machines monster trucks!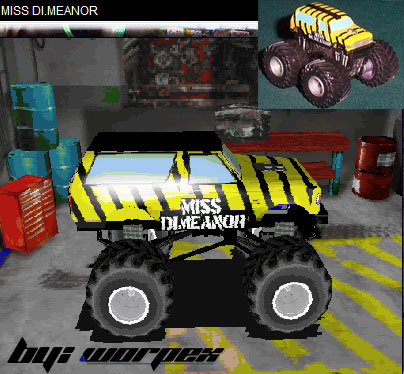 Starting with Miss Di.Meanor! Slickster created an absolutely incredible No Problem II replica which happens to be the exact truck Mattel had modeled Miss D after. I remember having this one as a kid and it was one of my favorites. So, thought I'd give it it a go! It took longer than I expected and I unfortunately wasn't able to re-create the roof in the way I wanted to. Ended up just painting it black and calling it a day, which looks fine I think.
Anyway, I hope to re-create some more of them in time. This was a pretty fun day build! Suggestions welcome!
Edit: And of course I found mistakes after i've already submit it. Whatever.